Math Stations / Centers
Free to Download and Use.
Right click the picture or link and choose "Save Target As..." to download.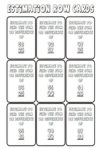 Estimation Row
Skill: Estimation
Estimate either the sum or the difference. Place a token on the answer you choose to get 4 in a row. For 2 players or team.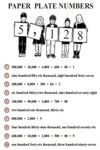 Paper Plate Presentation - Whole Numbers
Skill: Place Value, Expanded Form, Word Form, Standard Form
Teams go to the front of the class and use number paper plates to form the number / problem described. Points given to the first team to do so. This is a SILENT game where the class is divided into two teams.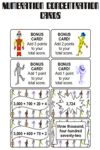 Numeration Concentration
Skill: Place Value, Expanded Form, Word Form, Standard Form
A matching / memory game where players will have to match cards with numbers in standard form, expanded form or word form. For 1 or more players.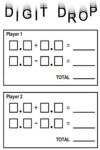 Digit Drop
Skill: Adding and Subtracting Decimals
Players fill in the equations on their card to get the highest answers. For 2 players.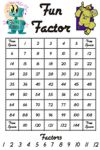 Fun Factor
Skill: Multiplication Facts
Move one token to a new factor and use the resulting product to cover a spot on the game board. First player to get 4 squares in a row wins. For 2 or more players.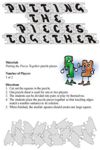 Putting the Pieces Together #2
Skill: Multiplication / Division Facts
This is a puzzle game where players must place all of the pieces so that the division and multiplication problems are next to their answers. Can be played with 1 or more players.